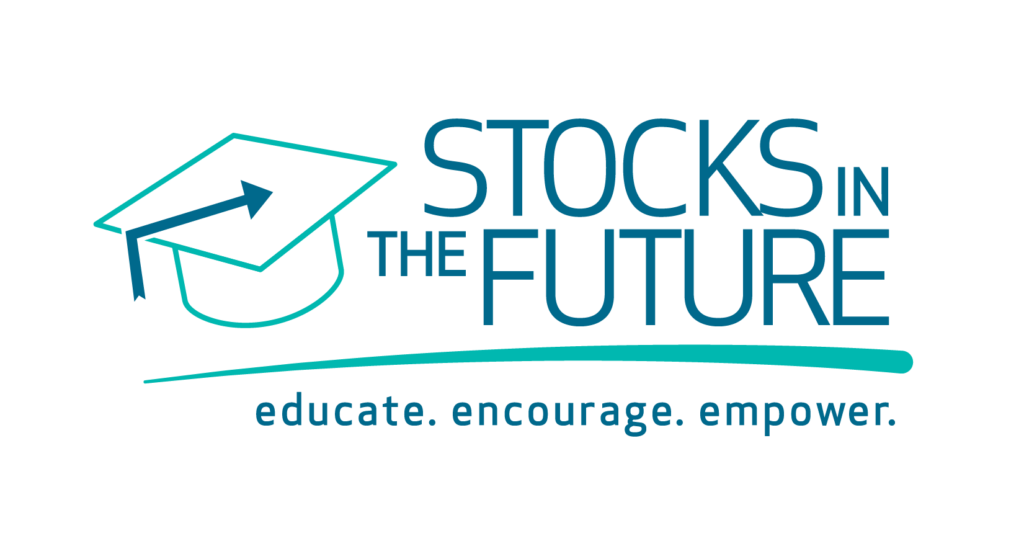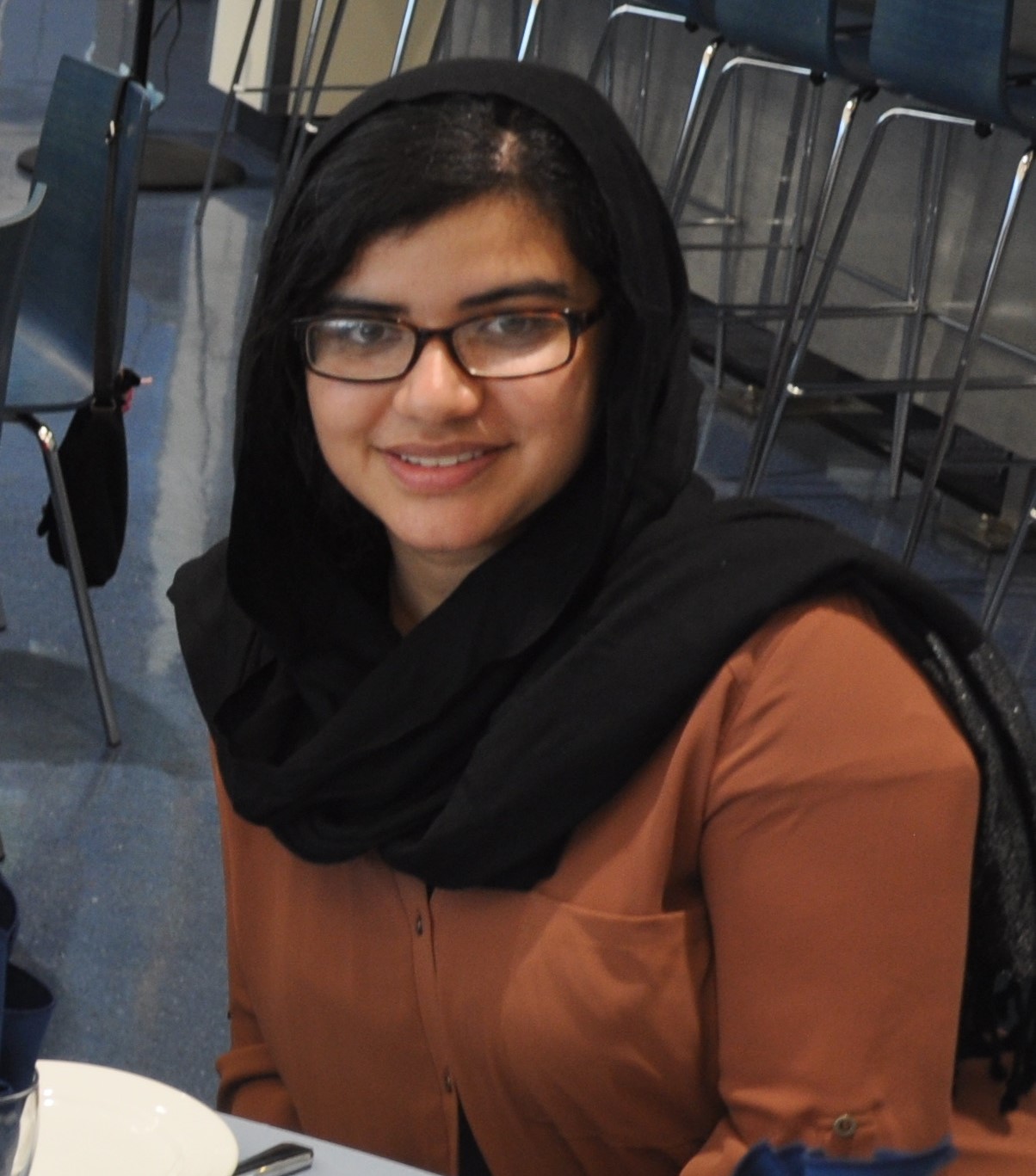 SIF Alum, Summara, found that her participation in Stocks in the Future was an investment that paid off! Summara was first introduced to Stocks in the Future in 6th grade, at Barclay Elementary/Middle School in Baltimore. Her teacher Mr. Lewis held Stocks in the Future lessons weekly, teaching students about stocks, bonds, savings, and mutual funds. As many know, Stocks in the Future is an incentive-based curriculum, encouraging middle school students to stay in school by teaching them about finances, business, mutual funds and stocks, while providing incentives for good attendance and grades. As Stocks in the Future dollars build in virtual portfolios, these investments are converted to real money when students turn 18, claim their portfolio from SIF, make a transfer from SIF to their own investment account, and thus, they are investors in the market. Summara was easily motivated by SIF to work harder for good grades and attendance. By the end of the program, she had earned enough money to purchase 38 shares of Sirius XM radio. Summara continued tracking her portfolio online and trading stock throughout high school. Typically, students can claim ownership of their stock within a year of graduating high school and turning 18. Stocks in the Future extended this deadline for Summara – since her family immigrated to the United States from Pakistan, Summara did not have the documentation needed to legally claim ownership of her stock. It took her more than two years to obtain the needed documents. "Villages in Pakistan don't keep the same records," Summara said, "They have old records that people have to dig through, not electronic." Summara is no stranger to working towards a goal; the work ethic and financial savviness she honed through Stocks in the Future has served her for years. "I believe hard work equals success", she said, adding, "I applied investing in other ways than just money, such as investing my time in certain organizations to fulfill a goal." Since graduating from the SIF program, Summara earned a Bachelor's degree from Notre Dame of Maryland University, with a biology major and a concentration in pre-med. She is currently studying for the MCAT and hopes to attend medical school in the fall of 2022. "Our health is a universal thing," said Summara, "I want to help people feel better when they are the most scared and alone." Summara is currently helping others in more ways than one – she recently taught her two older brothers the financial skills she gained from Stocks in the Future and now they are investing too. "I was lucky to have been introduced to it at such a young age," said Summara, "This is the only place where I learned about investing in the future. Everyone should know how to invest.
Remote Learning Becomes Hybrid at SIF
Mr. Lyons from Hazelwood Elementary/Middle teaches SIF to both students in the classroom and remotely at the same time. This has made SIF a success this year.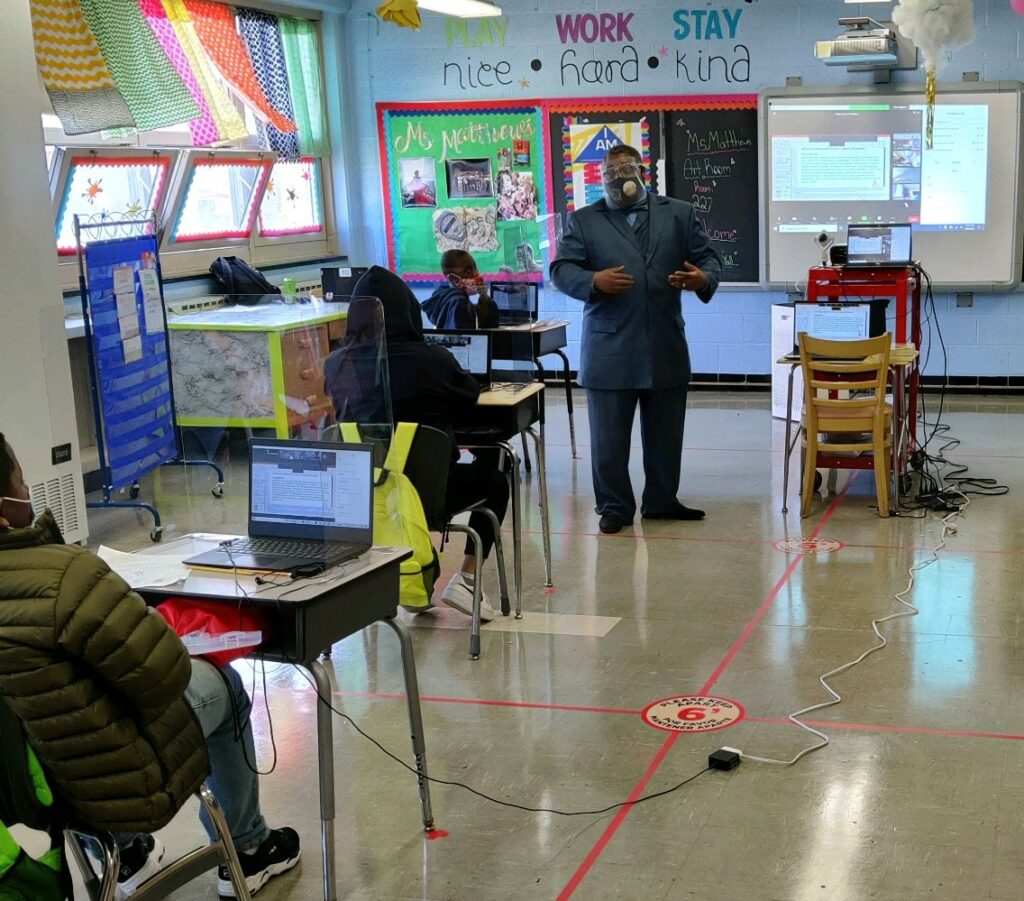 During the spring semester, Stocks in the Future students headed back to school using a hybrid attendance model, with Baltimore City Public schools taking many steps to ensure the safety of their in-person students and staff. Masks and social distancing are only part of the process. At Hazelwood Elementary Middle School, everyone entering the building is greeted by a hall monitor, the first line of defense against the spread of COVID. The monitor checks temperatures and asks a series of questions related to viral exposure. After the checks have been completed, the purpose for the school visit is verified. Student movement through the school is observed in order to minimize contact. Markers on the floor hallways show the appropriate distances to maintain. Students and staff do not move through the building but remain in the same classroom for the entire day. Additionally, only specific students and staff are scheduled to attend each day, while others attend class virtually. For students and staff who attend in person, tape outlines each desk, marking six feet between each chair. The desks are equipped with plastic shields and laptops. While the teacher lectures, students in the building follow the same process as virtual students, unmuting themselves to answer questions. The students in class seemed to appreciate the opportunity to socialize with each other and learn in a typical setting. It is fantastic to see education moving back in person. Stocks in the Future is part of hybrid learning and we thank all the teachers and principals who made this possible.
"Every unexpected change is the opportunity for something wonderful" is an expression that describes the work happening at Stocks in the Future since March 2020. Some of these changes are obvious, such as the decision to become independent from JHU, and other changes are subtle and organic, such as the work of the SIF Marketing Committee. SIF Marketing Chairperson, Carol Croxton, proudly describes this committee as "extremely collaborative and talented." This group, composed of marketing professionals having various backgrounds in graphic design, public relations, communications, strategic planning, and videography, worked together this spring on a refresh of SIF's logo and graphic standards. "Making sure SIF stays true to its roots has been important in this process," Carol said, "Rather than making a 180 degree turn in design, we kept green to reflect the finance industry, along with the graduation cap representing education." SIF graphic designer, Nicole Courtney adds, "We moved the tag line 'educate – encourage – empower' from SIF's mission & value statement into the logo and added the arrow and forward moving arch to give a sense of progress. The new colors are a refresh from the old. We stuck with shades of blue and green to keep it recognizable but chose brighter more modern colors. The more fun colors also tribute to the organization being for the children while still maintaining a professional look." Not only was the SIF Marketing team involved with the logo refresh but the SIF board members were engaged as well. They gave input on the design and cast their vote on the final product, which you can see at the top of this e-news publication. This summer, the SIF Marketing Committee will continue its work on a marketing plan, which is an important step in completing SIF's strategic planning cycle by 2022. "We want everyone to see SIF's cohesive framework and reach out to as many people as possible through this effort," explains Carol. "We will be revisiting already-existing SIF marketing resources such as print products, our website and social media outlets, which will help us expand our growth. We want to make sure Baltimore and beyond sees the good work of SIF." One such marketing resource is a newly animated slideshow, designed by the SIF Marketing Committee along with help of our AmeriCorps volunteer. This slide show was designed to give potential new schools an overview of SIF and how it works. Take a look for yourself at the image and link above. We thank the SIF Marketing Committee for the work they do and for their leadership in fundraising, building SIF's network, and hosting events such as March Market Madness and Trivia Night. They are our unsung heroes and we certainly would not be successful without them.
Virtual Wine Tasting – Reserve Your Spot!
Get a taste of Stocks in the Future at our upcoming virtual wine tasting. Originally scheduled for June 24, the new date will be announced soon! Attendees will sample several Spanish wines while learning the latest about SIF. Tickets are $65 each and are available now.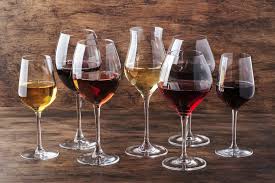 Partner With Us
As spring rolls into summer, we are already looking ahead to the next school year! If you would like to bring Stocks in the Future programming to your middle school, please reach out to Rebecca Thernes at [email protected].
In Case You Missed It
In April, Stocks in the Future hosted a panel discussion, "Forging Ahead in a Post-COVID Economy," featuring Maryland State Comptroller Peter Franchot and Baltimore City Comptroller, Bill Henry. The discussion was moderated by WBAL TV reporter Jayne Miller. You can view a recording of the panel discussion on SIF's YouTube page.