Despite the Challenges…
Now heading ten months into the pandemic, SIF has been able to thrive and survive despite COVID-19 and questions of where our country's leadership and economy is headed. Thanks to the generous support of volunteers and monetary gifts, we've been able to move forward. We can never thank you enough! Now, as we see a vaccine developed and a light at the end of the tunnel, we have more good news to share.
Technology Development
2021 will be the year we develop a new website and continue to improve our online curriculum. Early this fall, a tech team was developed that diagnosed areas needed to be changed. So, we have begun work developing a new website which includes our SIFonline.org site (designed for the public-at-large) and stocksinthefuture.org site (designed for the students and teachers for educational resources.) These sites will be merged with an updated look and feel. Along with that, we continue to explore ways to improve our online curriculum. As we had to quickly design something for remote learning, we have developed videos and narrated PowerPoints for students to access SIF from home. As we head into the second half of the school year, we are now looking into more resources that will actively engage students and teachers.
Spanish Version of the Curriculum
For years we have recognized the need to have a Spanish language version of Stocks in the Future. We're happy to announce that this work has begun and we will be ready to have the 6th grade curriculum completed by the 2021-22 school year. It is important for us to meet the needs of an emerging Spanish speaking population withinunderserved areas of Baltimore and beyond.
New Partnerships
We are happy to announce plans are in the works to partner with the Allentown, PA school district and other possible school districts outside our region. Along with that, we are developing a curriculum to support pregnant teens. We are excited to work in these new territories!
Giving Societies
Over the summer we started work forming a "Superheroes Giving Society." This is a group of young professionals who dedicate their time and make a $250 – $500 gift to SIF. Many of our Superheroes have already helped bring in support by narrating our online lessons, finding people to participate with our fall trivia event and support #GivingTuesday. We are so impressed by this talented group who are "movers and shakers" and passionate about SIF!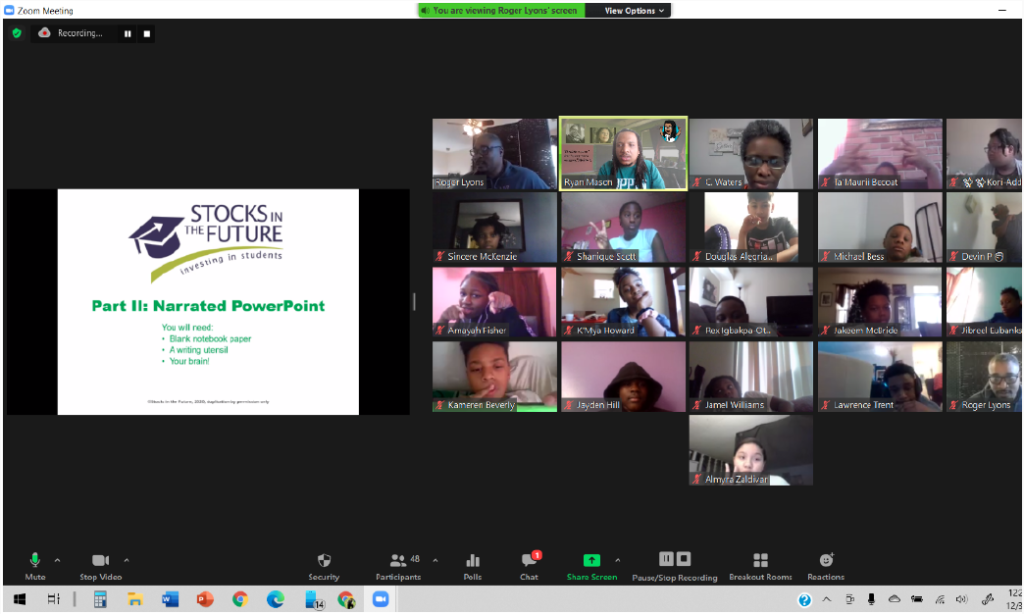 Remote Learning at SIF
As you can imagine, we had to work very quickly on our feet to have our curriculum ready for remote learning this school year. We thought it was important the curriculum be modifiable so lessons could be conducted as a group or independently. Each lesson includes a narrated PowerPoint, a video, teacher guide, and student workbook. SIF teachers have the option to modify the curriculum to best suit their classroom needs. For example, teachers can allow the students to work at their own pace or within a group setting.
Active participation can be challenging with distance learning, but as SIF teacher, Mr. Lyons, of Hazelwood Elementary/Middle School reports, "I can say I get more participation towards Stocks in the Future. More children want to participate. They write more. They make connections to their math class because some of the math skills connect with their other lessons. I get more cameras on, so the class is livelier."
Both students and teachers can download SIF resources from our website. Mr. Lyons downloads the material to Google classrooms where the students can review the videos and workbooks. "What's really exciting to them is that they are learning something unique, learning things grown adults don't know. Overall, the program is really positive because it's going to help the children with what's going to come up next."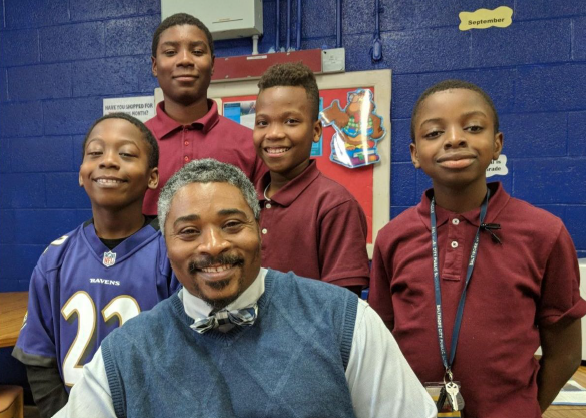 "Today we are doing budgeting wants and needs. The lesson is relatable as students can connect concepts they're learning in other subjects in school and from life in general. Like when they ask their parents about how to set goals, that's a way of connecting with their family and having conversations with their parents."
Our PowerPoints are narrated by volunteers who are mainly finance professionals. Each volunteer brings a unique skill set and relevant anecdotes. A special thanks to our professional volunteers from T. Rowe Price, PNC, TIAA, Merrill Lynch, Charles Schwab and The University of Baltimore who narrated the Stocks in the Future PowerPoints.
SIF volunteer Terri Jones really enjoyed the opportunity to read Growing Your Money chapter 1 during the lesson, "It was easy to do, and a lot of fun." SIF volunteer Kevin Benavente was grateful for the opportunity to connect with and teach students about what affects stock prices, "I hope the students are able to draw more connections between the real world around them and basic financial concepts."
Stocks in the Future is striving to make the curriculum as interactive as possible. Currently SIF has incorporated self-paced quizzes using the education platform Kahoot! The quizzes promote fun competition. SIF is investigating other education programs, such as BrainPOP, Discovery Education and Jamboard to implement for the remainder of the year.
SIF'S Virtual Trivia Competition was a hit!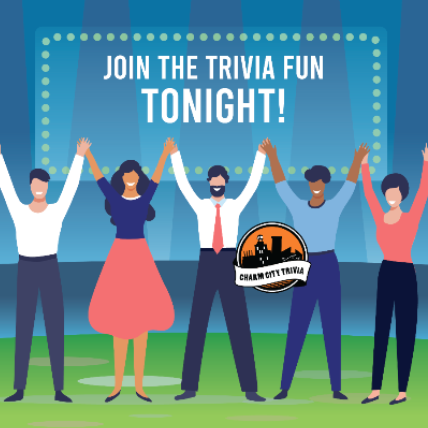 SIF didn't let social distancing spoil the fun at our fall fundraiser! On November 19, we held a Virtual Trivia Competition hosted by Charm City Trivia, raising nearly $7,000! Over 60 players on 14 teams joined in the fun on Zoom, pooling their talents and testing their wits for an evening of friendly competition. Kickin' A$$et$ was the winning team, earning bragging rights for the most points—and the coolest team name.
We are grateful to Aegon Asset Management, our Platinum Sponsor, for their generous contribution. SIF Board members led the way in making the event a success as they recruited teams and raised funds through their peer-to-peer outreach, garnering 55 donations for SIF on Mightycause. We were grateful, at this time of giving thanks, for a chance to spread the word about SIF's mission and the importance of financial literacy education.

All players who took part, along with all #GivingTuesday donors, were entered into a raffle to win a two-night stay at the Royal Sonesta Harborside Hotel. We hope to have The Jeopardy Rejects, Common Cents, KC and the Moonshine Band, Homemade Hot Sauce, and other participating teams along with new teams back for another fun evening of Trivia fun to benefit SIF in 2021!
Special Thanks!
Welcome Julia Heenan, our Program Specialist and AmeriCorps volunteer from Detroit. She began working with SIF during September 2020 and due to the unique circumstances of remote learning, Julia lives and Northern with a BS in Biology. After graduating, Julia worked in water quality as a microbiologist. Julia enjoys preparing remote lesson material, "I am so grateful I get to review the lessons; my financial literacy has skyrocketed. I think the Stocks in the Future curriculum is fantastic. I hope the students earn money, participate, and have a fun time learning." Great to have Julia with us. She's doing impressive work.
Congratulations!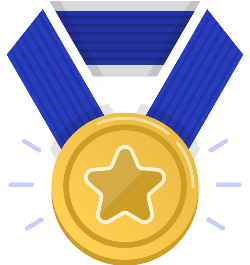 Congratulations to Kalman Hazins who has been a special technical support to Stocks in the Future over the past two years. There are two things that make Kalman an extraordinary individual: he does all the work for Stocks in the Future as a volunteer/gratis. Second, the website he works with is a more sophisticated site using "Ruby on Rails" as its platform. This is the same type of platform Bloomberg uses and where our students can see their portfolios a few minutes delayed from Realtime. Kalman was given a special recognition by his employer, T. Rowe Price for his work within the community this past summer. He has made great effort to make sure our website is up and running to its greatest potential. We are extremely grateful to have Kalman as part of our team!
Please Make A Year End Gift Today
2020 is drawing to a close. The fiscal impact COVID-19 has had on individuals, communities, small businesses, and nonprofits cannot be overstated. We are incredibly grateful for the generosity of our loyal supporters for getting SIF through this unimaginably difficult year.
We ask that as you plan your year-end giving, you please make SIF and financial literacy education one of your philanthropic priorities with a tax deductible donation. Those we serve need the skills and knowledge our curriculum provides truly more than ever as we enter an economically challenging period. Financial literacy is essential. Please support SIF with a donation today.